Pass The Collagen Please! A Nutritional Approach to Staying YOUthful!
Malinda McHenry
Founder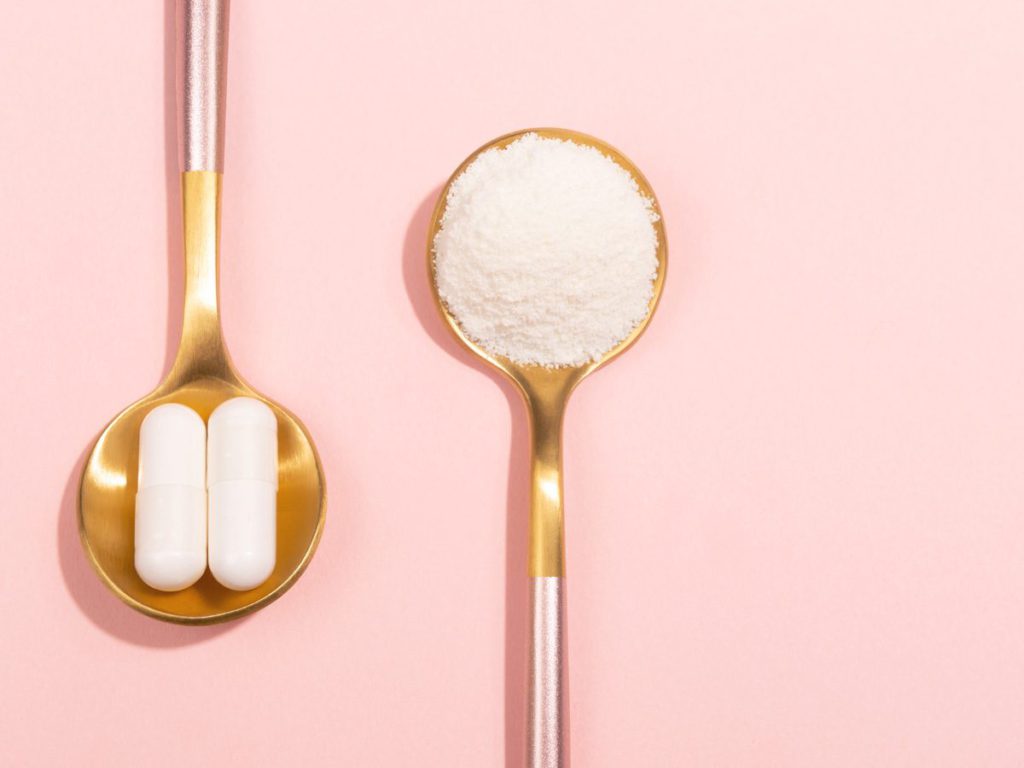 June 11th 2021, I raged at my girlfriend… "I am going to be 60!" She lovingly pointed out its only your 58th birthday! "Yeah but in two years I am going to be 60!" Don't get me wrong with age comes privileges, even as children aging is often rewarded. When you're older you get to stay up late, you get to drive a car, go on a date or get your first cell phone. But there comes a time when the magic of aging disappears, and the reality or gravity of aging begins to set in.
Having spent my entire career in the beauty industry I have had access to the most fabulous products, technology, education and information that has certainly benefited my aging journey. Recently my son's doctor reached out her hand to me and declared "This must be your wife! So nice to meet you!" Imagine her shock when he muttered, "NO this is my mom!" and imagine me grinning with glee.
Yet I have discovered that while you can look and feel amazing at your age you are still your AGE! With the dawning of my 6th decade rapidly approaching I considered my own grandmother at my age and went digging through old photographs. Suffice to say my grandmother appeared to look "Old" at 55 and honestly didn't change much until her passing at age 89.
So, time to take stock: Do I feel like my grandmother looks? NO! In fact, I feel great, I have a clean bill of health and I am not taking any medications. So, what has changed and got me so worked up about the dreaded 60? YES, you guessed it is my skin perception.
So how is it changing and is there anything more I can do to improve it? I use active organic products, SPF, occasional peels, micro-needling and micro-current! So that treats my skin outside in, still it lacks that firm plumpness it use to have. I have occasional puffiness under my eyes, jowls forming near my jaw, accordion lines on my chest and those ever-present rings of life on my neck.
So, what makes the skin look and feel young? Easy and so obvious "Collagen", it makes up 75% of the skin and 1/3rd of the protein in the entire body.
Our bodies manufacture collagen by combing different amino acids or building blocks from protein found in food. Of the 28 types of Collagen found in our bodies Types I, II, III, IV, & V make up the majority. What do each of these collagen types do exactly in terms of aging for our skin and bodies?
TYPE I collagen makes up about 90 percent of the collagen in our bodies. Nearly all tissue contains Type I collagen, including tendons, bones, cartilage, connective tissues and it is most abundant in the skin. It is packed fibers wound into a triple-helix structure that form this type of collagen which has incredible strength and elasticity. Collagen I degrades over time, it becomes most apparent in the appearance of fine lines, wrinkles and a loss of elasticity.
TYPE II collagen is found primarily in cartilage. While its structure is also a triple-helix, it has more loosely packed fibers. Type II provides the cushion in the cartilage for your bones and joints.
TYPE III collagen is often found alongside Type I. It makes up muscles, organs, arteries, some connective tissues in the liver, spleen, blood vessels, and internal organs, including the uterus. Very abundant in our skin it helps with hydration and creates the cushion or plumpness within the dermis.
TYPE IV collagen has a web-like pattern forming our loose supportive fascia and netting. This type makes up the thin layer outside the cells, giving the cells structure. It's also found in the skin, liver, kidneys, and other internal organs.
TYPE V collagen helps form keratin cell surfaces in our nails and nails. It's also required to form the cells that create a pregnant woman's placenta or the baby's life support within the womb.
Collagen is vital for blood clotting, wound healing and protecting the nervous system. Over time and depending on your lifestyle habits by the age of 40 you will have lost 1% of your collagen network. Lifestyle factors that contribute to all aging like lack of exercise, poor diet, smoking, alcohol consumption, high sugar intake and excess sun exposure will cause a greater decrease in protein levels overall. So, the real question becomes how much collagen is needed and what are the best sources to meet recommended daily requirements. What other dietary support does collagen require for optimal absorption in our bodies?
Currently health authorities haven't established an official guideline on daily intake. According to the National Institute for Health a 2019 study showed that consuming 2.5 to 15 grams of hydrolyzed collagen peptides daily were safe and effective. When consumed at 2.5 grams patients reported less joint pain, increased skin health and hydration. Patients with scarring reported improved skin texture. A daily dose of 5 grams showed improved bone density and at the large dose of 15 grams of collagen peptides reported results were improved muscle mass and better overall body composition.
The most common forms of collagen supplement is Hydrolyzed Collagen or collagen hydrolysate. Derived from bovine (Cattle), Marine (Spines, bones and roe from Seafood), Poultry (Chicken or eggshells), Pigs and other animal sources that are broken down into very small dried particles which are easily absorbed and can be added to liquids and food.
Undenatured Collagen is the liquid raw collagen derived from chicken cartilage and chicken feet. Gelatin is another common source that is usually derived from bovine animal sources and must be cooked before being consumed. There are no vegan substitutes for collagen and supplements may be dairy, gluten, sugar and soy free, but true collagen is only available from animal sources.
Other nutrients the body needs synthesize collagen are Biotin (B7), Vitamin C, Zinc, Copper and other trace minerals. Can we really get enough collagen just through our diet? Foods rich in collagen are found specifically in tough cuts of meat like brisket, and chuck steak. But high intake of red meat is not healthy in the long run. Collagen found in the bones and skin of fresh or saltwater fish is available if you like fish head soup.
Bone broth is a trending option and is found readily in the soup aisles or made easily at home. The process is lengthy and involves roasting organic grown animal bones or chicken feet in the oven until brown at 400 degrees. Transfer the bones to a slow cooker and cover with water. Add onions, carrots, garlic and a bay leaf for flavor. Cook on the low heat for 24 hours covered with water, strain and refrigerate the broth in tightly closed containers. This yields about 8 cups of bone broth at 3.8 grams of collagen per cup.
There are many collagen supplements currently on the market today and some are available for you to retail in your own beauty practice. I have tried various supplements over a few years but in June I really decided to commit this to my nutrition routine. Here is what worked best for me and the differences I have seen over 90 plus days of consistent collagen supplementation.
Seek a collagen that is all inclusive meaning it is a combination of both animal and marine collagen.
Make sure it is eco-cert, comes from trusted traceable resources with high user reviews and ratings. Credibility is paramount for optimal efficacy.
Price point for quality is a factor on average, you can expect to spend $1.75-$3.25 a day to add collagen to your hot/cold drinks or protein shakes. I consume mine twice daily: in my morning coffee and my afternoon tea or protein shake.
I prefer a powder form over the many flavored liquid options that require refrigeration. I chose a collagen supplement that is non flavored, dissolves easily and that travels well.
Finally add support supplements like a multi vitamin and mineral sources to ensure optimal absorption.
So, what results have I found personally? I have lost weight more easily, my skin over all feels much firmer and much more hydrated. My nails are growing stronger and my hair has never been more full, long or shiny. I have noticeably less muscle soreness after walking, lifting weights or playing tuggy with my new puppy. Like many redheads I have always battled blushing and reddening in my skin. You can always tell when I eat spicy food, drink wine or work out that vasodilation is my skins biggest challenge. So, the most surprising benefit has been the overall reduction of inflammation in my skin.
The medical, beauty and wellness industry often differ on what is the best approach to aging gracefully. It is clear to me that nutrition is paramount to that journey. There are many great books on nutrition especially with regards to collagen Like "The Collagen Diet" By Dr. Josh Axe, podcasts, testimonials and YouTube advice from Dr. Anil Rajani who really researched collagen in his talk "Eat this for perfect skin". If you are in doubt give it a try for yourself as for me pass the collagen, please!